Harrow Shopmobility Services for those with Mobility problems in the Harrow Area
Harrow Shopmobility is a registered charity; we are dedicated to providing freedom and independence to anyone with a mobility problem in the Harrow area. Our daily services, after registration, are free to those with temporary or permanent mobility issues and include both our wheelchairs and scooters. Hooded rain-capes, shopping bags, blankets and cushions are available for use with our scoters and wheelchairs. We also offer for longer-term use, loans of wheelchairs, scooters and walkers for general use at home, hospitals, social events, and holidays for a nominal fee. Zimmers and Sticks are also available.
If you or someone you know could benefit from our services, please don't hesitate to get in touch.
How To Find Us
We are located in the car park on the 3rd floor of St. Georges Shopping Centre, between the doors for 3B and 3C.
When Are We Open?
Monday till Thursday
10:00 am – 4:00 pm

Friday
10:00 am – 3:00 pm

Saturday and Sunday
Closed

All Public Holidays
Closed
Walking
We are on the third floor in St George's Centre, exit doors 3C (turn right when you exit the lifts) or 3B – automatic door.

You will see the bright yellow illuminated sign outside our office.

What 3 Words: insert.onion.wires
Car or Taxi
The entrance to St George's car park is in Headstone Road. After going up the spiral ramp and through the barriers where you obtain your parking ticket, you have to turn right, then immediately turn left. Our office is a short distance along on the left-hand side. There are three disabled bays reserved for Shopmobility users that are immediately opposite the office.
When using our service, we will exchange your parking ticket for a Pre-Paid ticket to allow you to park for free.
There is a 10 minute grace period for cars and taxis dropping off customers to our shop.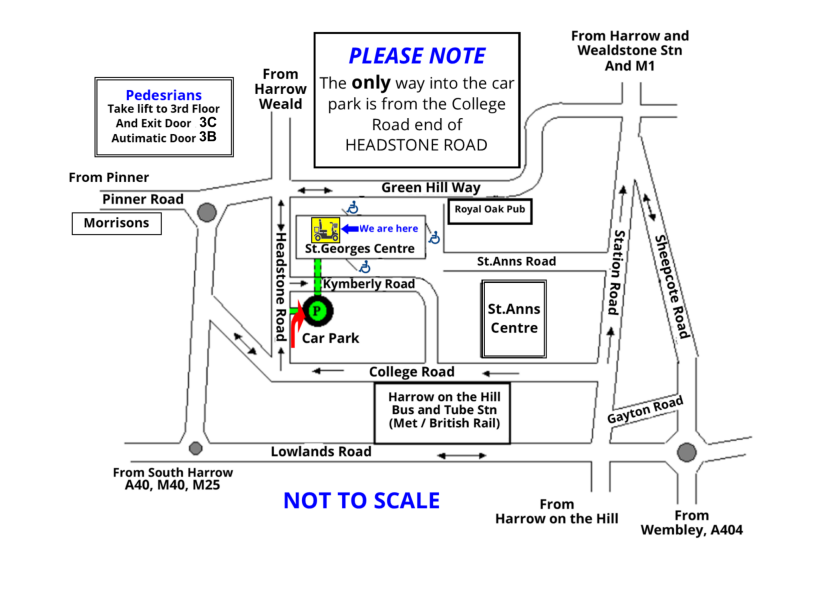 What 3 Words location of car park entrance ramp: pigs.rushed.finest
Anyone using our services can park free of charge.
We have 3 dedicated car spaces opposite our office. If you need us to come to the car, let us know.
There is a 10-minute free allotted time for 'dropping-off' by taxi in the car park, right outside our office.
Location of St. Georges Shopping Centre Car Park Entrance Ramp on Google Maps:
If required, we can call you a taxi via Taxicard or a cab company
Please be back by 15:30